Securities Industry Essentials (SIE)
Flash Cards
Pass the SIE exam on the first attempt with the help of our Flash Card practice questions.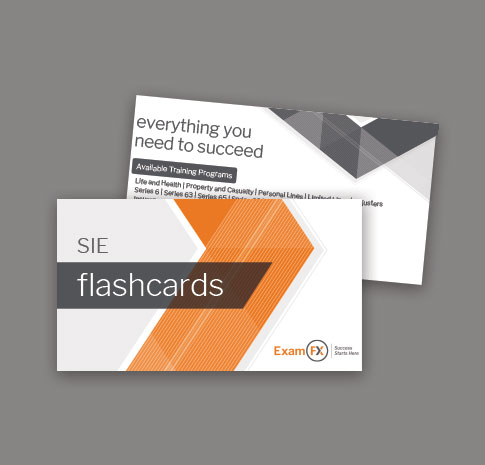 ExamFX SIE printed Flash Cards are the perfect study tool for offline quizzing. They include 175 Questions and Answers, plus 100 Terms and Definitions. Flash cards can be added to any SIE package during checkout.
RETAIL PRICE
$34.95
SIE Exam Prep Packages
SIE Qualification Exam
The ExamFX SIE Flash Cards provide candidates the tools they need to pass their qualification exam on the first attempt. Our Flash Cards are a great study tool for quizzing important SIE qualification exam topics. The ExamFX SIE training program provides candidates with study materials to fit every learning preference and budget.
Additional SIE Study Materials
What is the ExamFX Guarantee Exam?
ExamFX is so confident in our training program that we guarantee users who successfully complete the Guarantee Exam will pass their licensing exam on their first attempt! If you do not pass your licensing exam within three days after scoring 80% or higher on the Guarantee Exam, we will refund the cost of your course. It is that simple. Some restrictions may apply.