Series 65 Qualification Exam
Study Guide
Pass the Series 65 exam on the first attempt with the help of our Study Guide.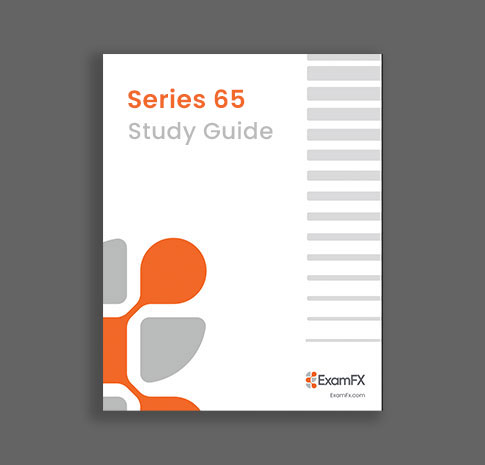 The ExamFX Series 65 Study Guide includes everything candidates need to know to pass their qualification exam. Study Guide can be added to any Series 65 package during checkout.
RETAIL PRICE
$34.95
Series 65 Exam Prep Packages
Series 65 Qualification Exam
Our Series 65 Study Guide provides candidates the tools they need to pass their qualification exam on the first attempt. ExamFX uses the FINRA exam content outlines to create our Study Guides, ensuring all exam-focused content is included. The ExamFX Series 65 training program provides candidates with study materials like Series 65 flashcards, practice exams, tip sheets, and more to fit every learning preference and budget.
Additional Series 65 Study Materials
What is the ExamFX Readiness Exam?
ExamFX is so confident in our training program that we guarantee users who successfully complete the Readiness Exam will pass their licensing exam on their first attempt! If you do not pass your licensing exam within three days after scoring 80% or higher on the Readiness Exam, we will refund the cost of your course. It is that simple. Some restrictions may apply.