Series 26
Exam Prep Training & Study Materials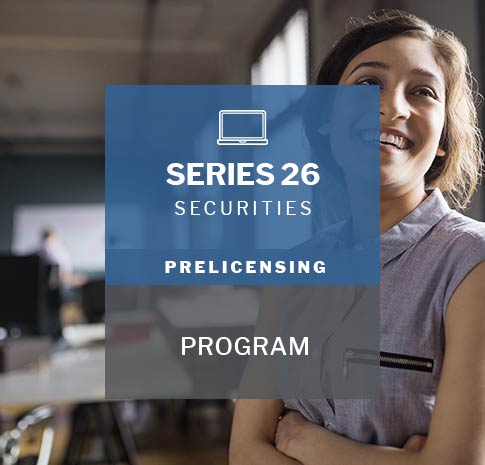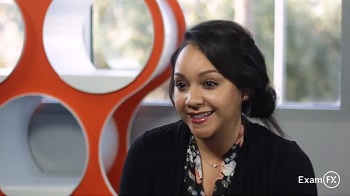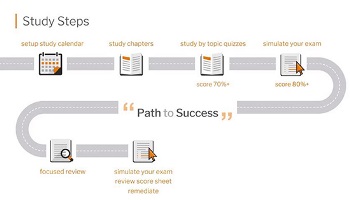 FINRA® Series 26 Exam Prep Course
ExamFX has created a comprehensive online training program to ensure candidates are prepared to pass their qualification exam on the first attempt.
RETAIL PACKAGES STARTING AT
$199.95

Register Now › Organization Discounts Available Contact your referring manager or recruiter for information on how to access your organization's portal.
Series 26 Training Package Information
We offer a flexible solution and package designed to help candidates pass their Series 26 exam. Our training provides a variety of helpful study tools that prepares candidates for success.
PACKAGE INFORMATION
SELF-STUDY PACKAGE
$199.95

-

REGISTER NOW
90 Days Course Access
Interactive Learning Portal
Online Exam Simulations
Readiness Exam
Guarantee Exam
Instructor Support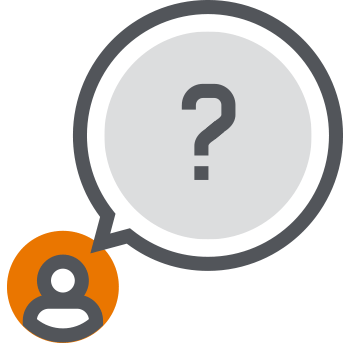 What is the Series 26 license?
The Series 26 license allows financial services professionals the qualifications to become a limited principal and to supervise and manage the sales activities for investment companies and annuities. In order to obtain a Series 26 license, you must prepare and pass the Series 26 exam (Investment Company and Variable Contracts Products Principal Qualification Exam). This exam is administered by the Financial Industry Regulatory Authority (FINRA). VIEW FINRA SERIES 26 EXAM CONTENT OUTLINE
About the Series 26 Exam
What are the topics covered on the Series 26 Exam?
The Series 26 exam is broken down into four parts (by job function). These topics include:
Personnel Management Activities and Registration of the Broker-Dealer
Supervises Associated Persons and Oversees Sales Practices
Oversees Compliance and Business Processes of the Broker-Dealer and its Offices
See below for more detailed breakdown or visit FINRA.
---
Personnel Management Activities and Registration of the Broker-Dealer
Conducts personnel management activities and administers the registration of the brokerdealer and associated persons in the Central Registration Depository (CRD)® System by filing, updating or amending appropriate documents
Provides training and education on securities industry structure, rules and regulations, product characteristics, and firm policies
Supervises Associated Persons and Oversees Sales Practices
Monitors, supervises and documents the sales activities of associated persons to achieve compliance with securities industry rules and regulations and firm policies and provides feedback regarding product knowledge and performance
Monitors, reviews and approves communications with the public to achieve compliance with securities industry rules, regulations, filing requirements and firm policies
Supervises recommendations and the handling of customers' accounts and transactions for appropriate disclosures concerning products, sales charges, risks, services, costs, fees, and delivery of disclosure and legal documents
Supervises compliance with FINRA's cash and non-cash compensation rules
Reviews and approves or prohibits outside business and personal financial activities of associated persons
Takes action, as necessary, regarding the conduct of associated persons and addresses violations or potential violations of securities industry rules and regulations and firm policies and procedures
Oversees Compliance and Business Processes of the Broker-Dealer and its Offices
Supervises the firm's operational processes for compliance with regulatory requirements related to the opening and ongoing maintenance of customer accounts
Monitors, identifies and reports suspicious activities consistent with regulatory and firm requirements and verifies that documentation is retained and filed
Develops, implements and tests the adequacy of internal controls and monitors business activities for compliance with regulatory and reporting requirements
Performs required office inspections to verify compliance with regulatory requirements and firm policies and procedures
Proper handling, resolution and required regulatory reporting of customer complaints
Supervises introduction, maintenance and reporting requirements of products/business lines and financial responsibility compliance
Additional Series 26 Study Materials
ExamFX offers candidates all the study materials they need to be successful in passing their qualification exam. In addition to our online learning platform, we offer printed study materials that help candidates throughout their learning. Our Study Guide can easily be added to any package during checkout.
ExamFX Series 26 packages include unlimited practice exams, designed to the simulate qualification exam. Learn more about these additional study materials by clicking below.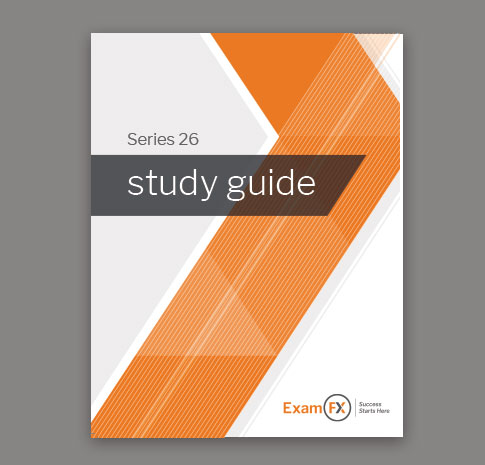 FINRA Series 26 Exam Details
The Series 26 exam consists of 110 multiple-choice questions. Candidates are given 2 hours and 45 minutes to complete the exam and must achieve a 70% to pass. The cost of the exam is exam cost $100. Candidates are required to have successfully completed the Series 6 or Series 7 exams.
What is the ExamFX Guarantee Exam?
ExamFX is so confident in our training program that we guarantee users who successfully complete the Guarantee Exam will pass their licensing exam on their first attempt! If you do not pass your licensing exam within three days after scoring 80% or higher on the Guarantee Exam, we will refund the cost of your course. It is that simple. Some restrictions may apply.