Our Corporate Partnerships provide organizations in the financial industry a comprehensive solution for their insurance and securities training and continuing education needs. As the leader in the prelicensing industry, we will develop a custom partnership program that is tailor-made for your organization, including multiple finance structures. Now is the time to partner and prepare with ExamFX - Let's discuss your current needs.
Corporate Partnership Program Options
Let us develop a prelicensing program that fits your organizations' training needs.

Organization-Specific Candidate Portal
Custom online informational website devoted to your organization

Monthly Subscription Agreement
A cost-effective way to simplify your recruiting process

Bulk Training Voucher Options
Vouchers provide an easy, trackable way for candidates to access training

Exclusive Corporate Discounts
Organization-specific discounts are available for your candidates

Manager Focused Candidate Tracking
Track each learners' progress through real-time dashboards and emails
Personalized Candidate Study Materials
Customized study materials aligned with your organizations' onboarding timeline

Custom Live Training Sessions
Train new candidates together in expert-led online or in-person group sessions

Single Sign-on Platform Integration
Connect your organization to our platform creating complete continuity


Visit the Manager Resource Library and download our featured ebook on the SIE exam
Stay informed with ExamFX as we get ready for the SIE exam launch in October, and learn about all of our product features in the resource library.

Visit Resource Library ›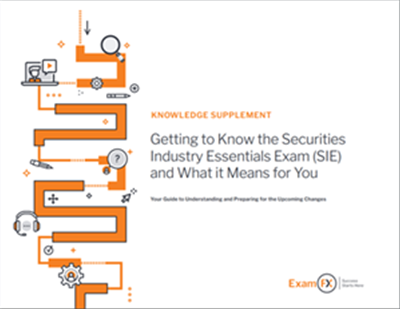 Trusted by Millions
ExamFX has been trusted by millions of candidates and some of the most respected organizations in the financial industry. See what our customers had to say: